Multiple train cars derailed near Nahant Marsh on Tuesday in Davenport. The railroad said no hazardous materials were released.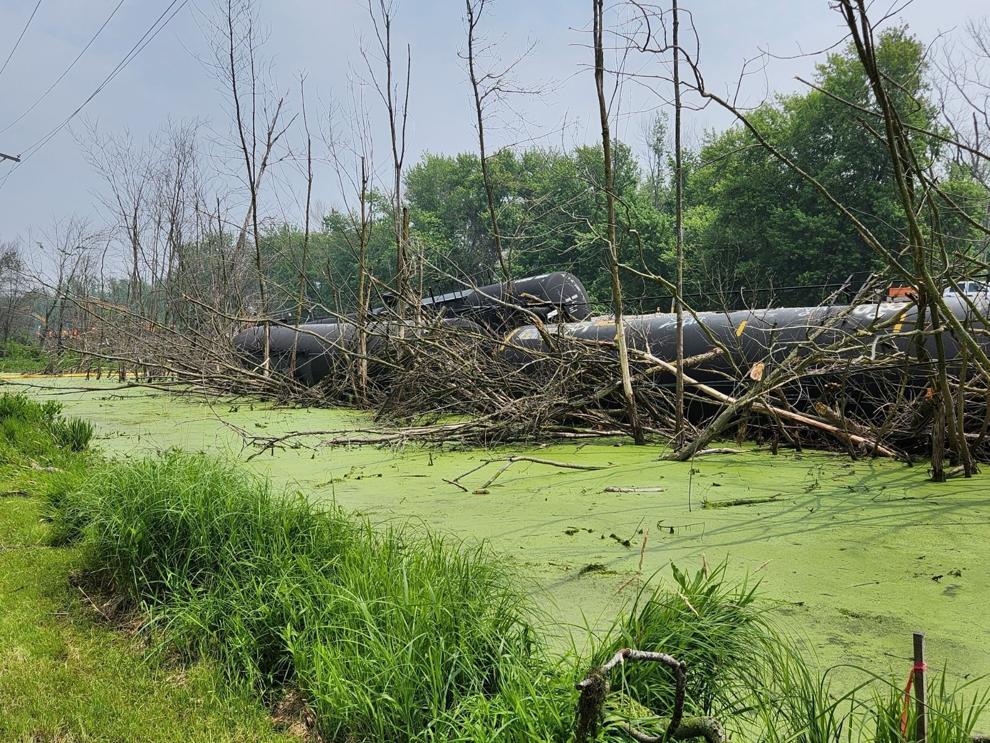 Several rail cars were tipped on their sides in the area between Nahant Education Center and Concord Street, which was closed to vehicle traffic into Wednesday. Others were righted, but appeared dented and damaged.
A Canadian Pacific Kansas City spokesperson emailed the Quad-City Times that a train operating at slow speed in CPKC's Nahant Yard in Davenport derailed 21 cars Tuesday evening.
"There were no injuries, no spills of any hazardous materials and there is no threat to public safety," Salem Woodrow wrote. "Three of the cars involved are carrying loads of liquid asphalt, but there were no leaks from those cars."
Inscribed on at least one car was "liquefied petroleum gas." Crews Wednesday afternoon used large machinery to lift train cars onto the tracks.
Woodrow added that yellow floating barriers set up in the marshy water, called booms, were "precautionary."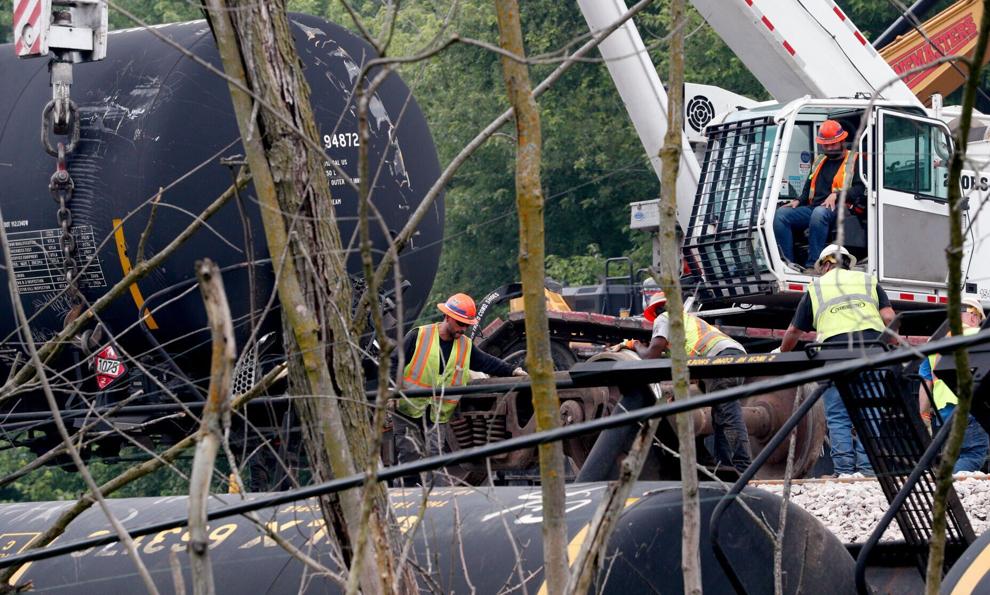 "CPKC crews have been working through the night and this morning to clean up the derailed cars," Woodrow wrote. "The cause of the incident remains under investigation. The preliminary investigation has determined there were no mechanical issues with the rail equipment or track infrastructure and that signal systems were operating properly."
David Donovan, director of Scott County Emergency Management Agency, said the agency had been in communication with Canadian Pacific and Kansas City Southern and the city of Davenport Fire Department.
To the Scott County EMA's knowledge, he said, there is no release of chemicals or health hazard as a result of the derailment. Because of that, he said, the EMA was not responding to the incident, but Davenport Fire responded Tuesday night.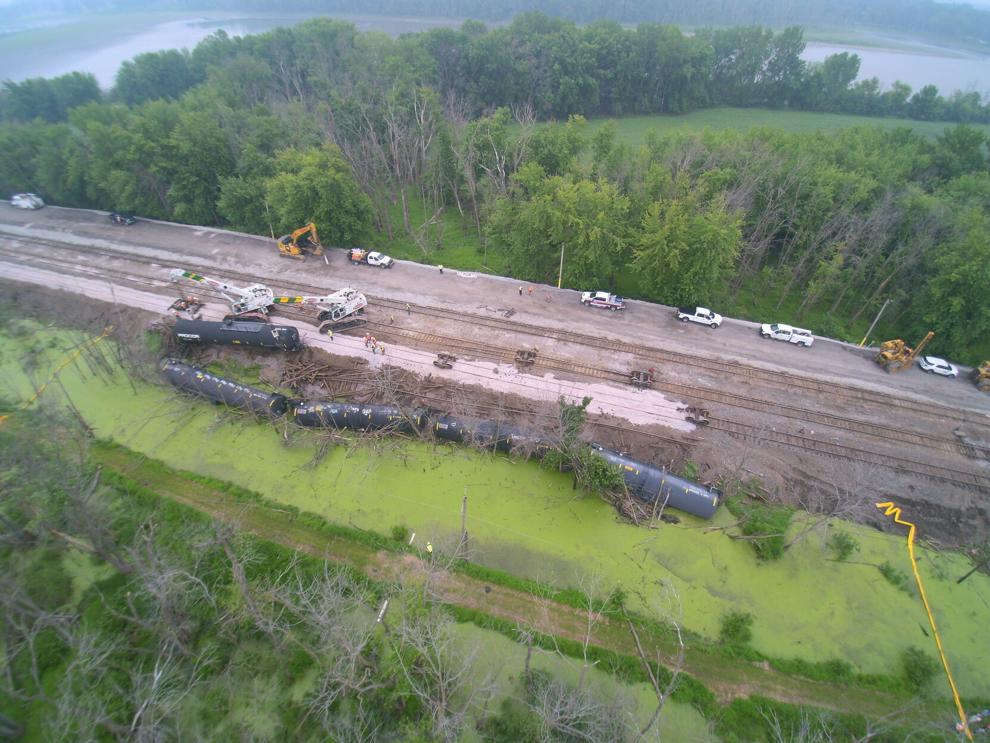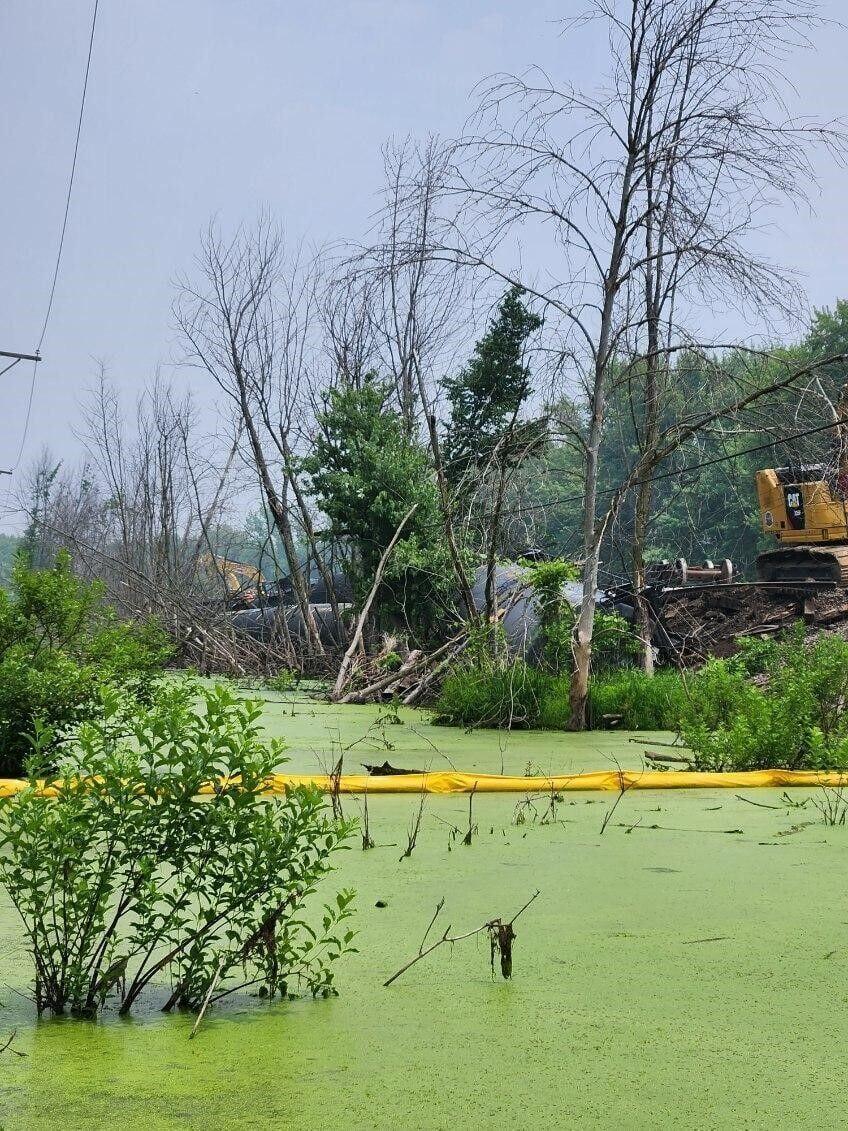 Curtis Lundy, chair of the Nahant Marsh Board of Trustees, wrote in an email that rail company Canadian Pacific Kansas City did not inform Nahant Marsh of the derailment. Organization staff came upon it while doing tree surveys at about 12:45 p.m. Wednesday.
Lundy said Nahant Marsh, which is near a CPKS rail yard, would do water samples in the area.
But since it happened at or near marsh property, Lundy said he wished CPKS would've notified them when it happened, instead of marsh staff discovering it on their own.
"There's a lot of things for us to be aware of," Lundy said. "If you don't know, you can't plan or can't manage it. As quick as possible notification is highly desirable."
At the City Council meeting Wednesday, Davenport Mayor Mike Matson said he was immediately notified of the derailment and was in conversations with CPKS and the fire department. Alderman Rick Dunn, who represents Davenport's 1st Ward, said he also was notified.
Train derailments have been top of mind for opponents of a recent merger between Canadian Pacific and Kansas City Southern, which the companies estimated will attract more train traffic through the Quad-Cities because of efficiencies resulting from becoming a single-company rail line connecting Mexico with Canada.
Federal regulators approved the merger earlier this year.